Hens and Chicks. This is the common name used to refer to Sempervivum, Jovibarba, and Echeveria. Sempervivum and Jovibarba are very similar. So similar that it can often be difficult to distinguish between them. Although most of the characteristics and care requirements of Sempervivum and Jovibarba are identical, there are a couple identifying traits.
Jovibarba are a separate plant genus from Sempervivum. They come from the alpine regions of southeastern Europe making them extremely cold hardy plants. Jovibarba succulents can be divided into two groups: Jovbarba heuffelii and Jovibarba Rollers.
Propagation
This is where you will see the biggest difference between Semps, Jovi heuffelii, and Jovi Rollers.
Sempervivum produce their chicks on a runner (stolon) as pictured above.
Jovibarba heuffelii grow new plants between their leaves. This causes the plants to grow in thick clumps. They have to be divided with a knife. The best time to divide Jovi heuffs is from late summer to fall. Although, propagation can be successful throughout the year.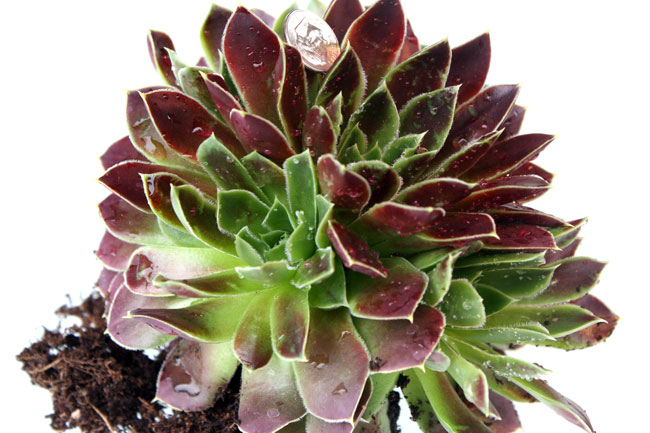 Jovibarba Rollers have round babies on short, thin stolon. Their stolon wither, allowing the new chick to easily pop off and roll to new growing ground.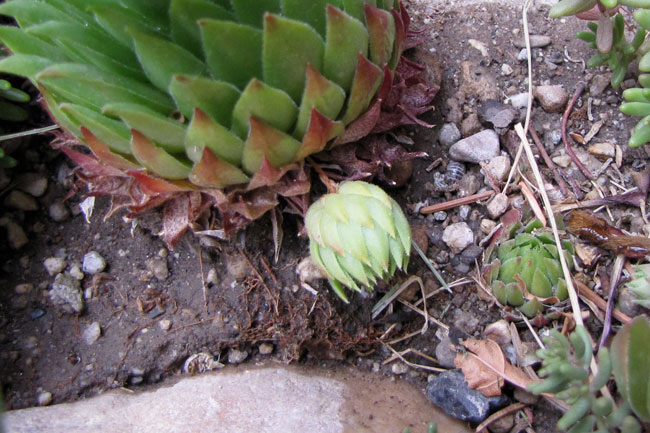 Typically the succulent varieties propagate as expected, but they don't always stick to these rules. Jovi heuffs will sometimes send out an offset on a stolon and late in the season Semps will sometimes produce offsets between their leaves like a Jovibarba heuffelii.
Flowers
In addition to propagation habits, Sempervivum and Jovibarba also differ in the look of their flowers. Sempervivum succulents have open, star-shaped flowers that are typically pink, white or yellow.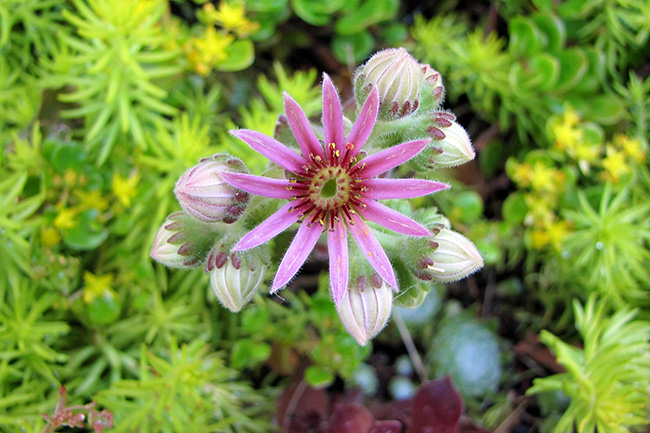 Jovibarba have closed flower petals that are more bell-shaped. Their flowers are yellow. Both genera die after they flower.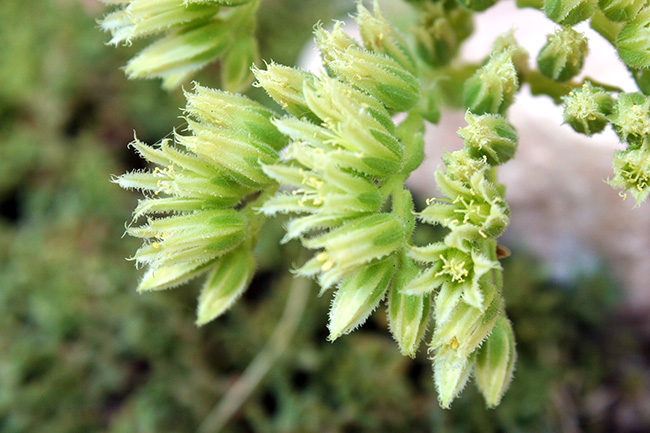 Autumn is a great time for Jovibarba. Both the heuffelii and roller varieties. As cooler weather comes, so does the brilliant coloring on the hens and chicks. Rollers look especially stunning as their pointed leaf tips turn from green to deep red. They are stunning when planted in containers with other succulents.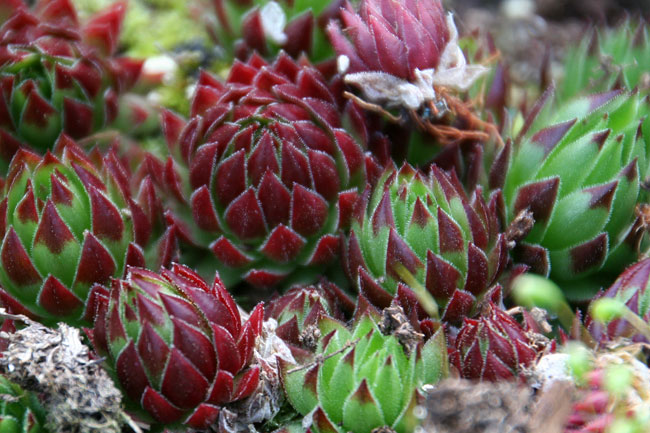 Here's a 5 second video of a Jovibarba Roller from pictures that we put together. We intended to show the plant grow a baby chick. However, the hen rosette also ended up shooting out a flower stalk. Just goes to show how fun hens and chicks are since they are constantly changing. The first shot was taken on May 26th and the last on July 27th.